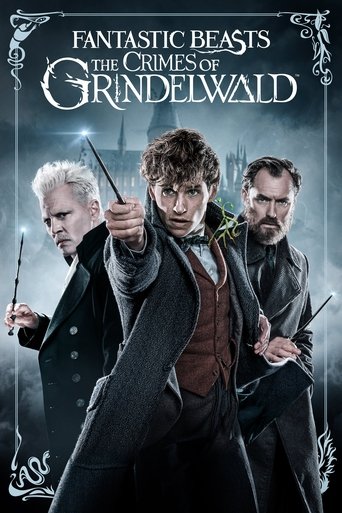 "Fate of One. Future of All."
Gellert Grindelwald has escaped imprisonment and has begun gathering followers to his cause—elevating wizards above all non-magical beings. The only one capable of putting a stop to him is the wizard he once called his closest friend, Albus Dumbledore. However, Dumbledore will need to seek help from the wizard who had thwarted Grindelwald once before, his former student Newt Scamander, who agrees to help, unaware of the dangers that lie ahead. Lines are drawn as love and loyalty are tested, even among the truest friends and family, in an increasingly divided wizarding world.
Genre:
Stars:
Director:
Writer:
Production:
Warner Bros. Pictures
Heyday Films
Release Date: 2018-11-16
Status: Released
Original Title:
Fantastic Beasts: The Crimes of Grindelwald
5.7 / 10 / 603 Ratings
6.9 / 10 / 5468
Popularity: 37
6.6 / 10 / 177,945
ID:
tt4123430
Country:

GB, US

Language:

English | Français

Runtime:

134

Budget:

$200,000,000

Revenue:

$653,355,901
Watching
Fantastic Beasts: The Crimes of Grindelwald
Video Server
No video available, meanwhile enjoy the trailer.
Movies Subtitles