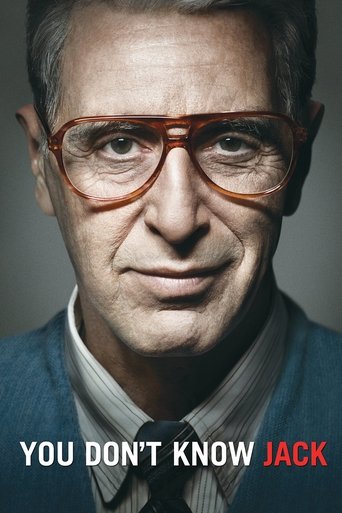 "The Life and Deaths of Jack Kevorkian"
Angel of mercy… or murderous "Doctor Death"? Jack Kervorkian is one of the most polarizing figures in modern American history, a man whose passionate belief that people have the right to die has brought him both praise and vilification. Oscar®- and Emmy®-winning actor Al Pacino brings "Dr. Death" to life in an all-new HBO Films presentation: You Don't Know Jack, directed by Oscar®-winner Barry Levinson.
Genre:
Stars:
Director:
Writer:
Production:
Bee Holder Productions
Royal Oak Films
HBO Films
Cine Mosaic
Release Date: 2010-04-14
Status: Released
Original Title:
You Don't Know Jack
7.1 / 10 / 188
Popularity: 10
7.6 / 10 / 25,344
ID:
tt1132623
Country:

US

Language:

English

Runtime:

134
Watching
You Don't Know Jack
Video Server
No video available, meanwhile enjoy the trailer.
Movies Subtitles